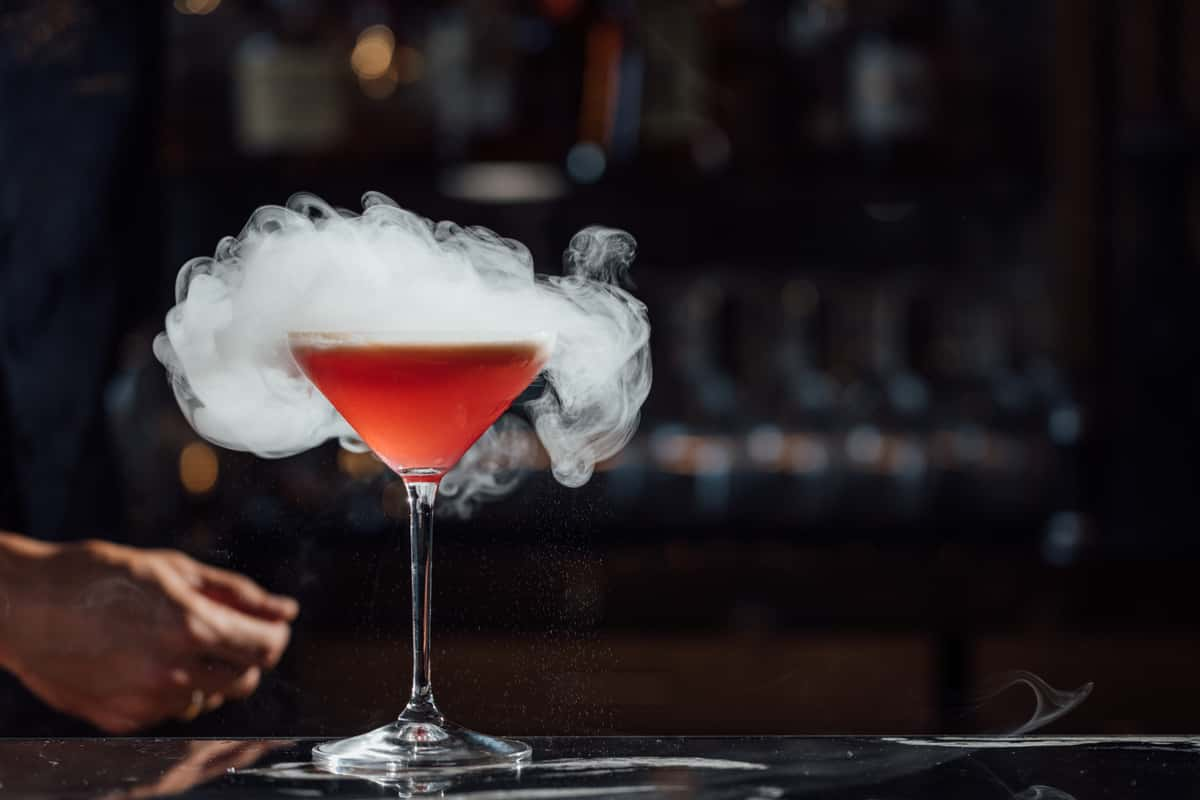 Beverage Menu
Wine
Bubbles
By the Glass

Brut Rosé | Gerard Bertrand, France 

Prosecco | Mionetto, Brut, Treviso, Italy 

J Vineyards | California Cuvée, Sonoma Cty. 

Champagne Nicolas Feuillatte, Brut RSV, France 

Veuve Clicquot, Champagne Brut, Reims, France
White & Rose Wines
By the Glass

Pinot Grigio | Terlato, Italy 

Gruner Veltliner | Weixelbaum, Austria 

Chateau La Coste | Rosé, Vin de Provence, France 

Sancerre | Le Roi des Pierres, Loire, France 

Sauvignon Blanc | Honig Winery, Napa County 

Sauvignon Blanc | Wildsong, New Zealand 

Chardonnay | Patz & Hall, Dutton Ranch, Sonoma 

Chardonnay | Hartford Court, Russian River Valley 

Chardonnay | Rombauer, Carneros 

Pouilly-Fuissé | Manor du Capucin, Burgundy
Red Wines
By the Glass

Pinot Noir | Davis Bynum, Russian River Valley 

Pinot Noir | Belle Glos, Balade Vyd., Sta. Rita Hills 

Pinot Noir | Martin Ray, Sonoma Coast 

Zinfandel | Director's Cut, Dry Creek, Sonoma 

Malbec | Graffigna, Grand Reserve, Argentina 

Super Tuscan | IL Bruciato, Bolgheri DOC, Italy 

Red Blend | Opolo, Montagne Mare, Paso Robles 

Red Blend | The Prisoner, Napa Valley 

Cabernet Sauvignon | Austin Hope, Paso Robles 

Cabernet Sauvignon | Iconoclast, Napa Valley
Hidden Gems
Bordeaux
Château Lassegue, St. Emilion 2005 

Pichon-Longueville, RSV de LaComtesse, Pauillac 2011

Château Mongravey, Cru Bourgeois, Margaux 2017
Cabernet Sauignon
Heitz Cellars "Martha's Vyd." Napa 2013

Chateau Montelena "Estate" Napa 2015 

Dunn Vineyards, Howell Mountain 2014

Darioush, Napa Valley 2017 

Mercury Head, Orin Swift Cellars, Napa Valley 2018 

Nickel & Nickel, Branding Iron, Oakville 2018

Nickel & Nickel, Quarry Vyd.,Rutherford 2018
Pinot Noir
Du Mol, Jentoft Vyd. "Ryan", Russian River 2017

Seasmoke, Ten, Sta.Rita Hills 2018

Seasmoke, Southing, Sta.Rita Hills 2018

Domaine Drouhin, Laurene, Dundee Hills, Oregon 2017

Kistler, Sonoma Coast 2018 

Pahlmeyer "Jayson", Sonoma Coast 2017 

Twomey (Silver Oak) Anderson Vly. 2018
Italia - Rossi
Promis, Gaja, Ca'Marcanda, IGT, Toscana 2017

Luce della Vite, Frescobaldi/Mondavi, Montalcino 2015

Ornellaia, Tenuta dell'Ornellaia, Bolgheri 2016

Amarone, "Costasera", Masi, Veneto 2015

Barolo, Michele Chiarlo "Cannubi", Piedmonte 2013
France - Burgundy
Nuits-Saint-George, Aurelien Verdet 2016

Chassagne-Montrachet, Lamy-Pillot 2018

Meursault, Louis Jadot 2017

Chablis, Louis Jadot 2018
France - Rhone
Châteauneuf du Pape, Dom. Saint Préfert 2017
Limited Inventory - Pricing subject to change
Hidden Gems
Chardonnay
3 in A1 2017 Aubert Chardonnay CIX Estate Vineyard (USA, California, Sonoma County, Sonoma Coast)

3 in A2 2017 Aubert Chardonnay Eastside Vineyard (USA, California, Sonoma County, Russian River Valley) 

2 in A1 2017 Aubert Chardonnay Larry Hyde & Sons (USA, California, Napa / Sonoma, Carneros)

6 in A6 2016 Castello della Sala (Antinori) Umbria Cervaro della Sala (Italy, Umbria)

4 in A8 2017 Lismore Chardonnay Reserve (South Africa, Cape South Coast, Overberg, Greyton) 

2 in A5 2015 Peter Michael Chardonnay Belle Côte (USA, California, Sonoma County, Knights Valley)

1 in A5 2015 Peter Michael Chardonnay La Carrière (USA, California, Sonoma County, Knights Valley)

2 in A3 2017 J. Rochioli Chardonnay Rachael's Vineyard (USA, California, Sonoma County, Russian River Valley) 

2 in A5 2017 J. Rochioli Chardonnay South River Vineyard (USA, California, Sonoma County, Russian River Valley)
Sauvignon Blanc
4 in A8 2017 Lismore Estate Vineyards Sauvignon Blanc Barrel Fermented (South Africa)
Cabernet Sauvignon
4 in B9 1994 Caves São João Cabernet Sauvignon Reserva Quinta do Poço do Lobo (Portugal, Beiras, Bairrada)

1 in A7 2013 Caymus Cabernet Sauvignon (USA, California, Napa Valley)

2 in B6 2009 Corliss Estates Cabernet Sauvignon (USA, Washington, Columbia Valley)

1 in B7 2013 Peter Michael Au Paradis (USA, California, Napa Valley, Oakville)

4 in B3 2016 Riverain Cabernet Sauvignon (USA, California, Napa Valley, Oakville)
Pinot Noir
3 in C1 2016 Aubert Pinot Noir UV Vineyard (USA, California, Sonoma County, Sonoma Coast)

2 in C7 2012 DuMOL Pinot Noir Russian River Valley (USA, California, Sonoma County, Russian River Valley) 

6 in C6 2009 Louis Latour Aloxe-Corton 1er Cru Les Chaillots (France, Burgundy, Côte de Beaune, Aloxe-Corton 1er Cru) 

3 in C2 2017 Martinelli Pinot Noir Blue Slide Ridge (USA, California, Sonoma County, Sonoma Coast)

3 in C3 2014 Martinelli Pinot Noir Bondi Home Ranch Water Trough Vineyard (USA, California, Sonoma County, Green Valley of Russian River Valley)

3 in C1 2017 Martinelli Pinot Noir Lolita Ranch (USA, California, Sonoma County, Russian River Valley)

2 in C4 2012 Pisoni Pinot Noir Estate (USA, California, Central Coast, Santa Lucia Highlands)

2 in C4 2013 Pisoni Pinot Noir Estate (USA, California, Central Coast, Santa Lucia Highlands)

2 in B5 2017 J. Rochioli Pinot Noir Little Hill (USA, California, Sonoma County, Russian River Valley)

2 in C5 2017 J. Rochioli Pinot Noir Russian River Valley (USA, California, Sonoma County, Russian River Valley) 

4 in C5 2017 J. Rochioli Pinot Noir Sweetwater Vineyard (USA, California, Sonoma County, Russian River Valley)
Red Bordeaux Blend
1 in B11 2010 Château Duhart-Milon (France, Bordeaux, Médoc, Pauillac)

1 in B14 2000 Château Léoville Poyferré (France, Bordeaux, Médoc, St. Julien) 

1 in B13 2003 Château Montrose (France, Bordeaux, Médoc, St. Estèphe) 

1 in B7 2013 Peter Michael Les Pavots (USA, California, Sonoma County, Knights Valley)

1 in B10 2012 Château Pichon-Longueville Baron (France, Bordeaux, Médoc, Pauillac)
Red Rhone Blend
2 in B1 2016 Domaine la Barroche Châteauneuf-du-Pape Julien Barrot (France, Rhône, Southern Rhône, Châteauneuf-du-Pape)

3 in B15 2016 Domaine les Pallières Gigondas Les Racines (France, Rhône, Southern Rhône, Gigondas) 

1 in B2 2016 Domaine les Pallières Gigondas Terrasse du Diable (France, Rhône, Southern Rhône, Gigondas)
Super Tuscan Blend
4 in B1 2015 Antinori Tignanello Toscana IGT (Italy, Tuscany, Toscana IGT)
Syrah
3 in B8 2016 Martinelli Syrah Hop Barn Hill (USA, California, Sonoma County, Russian River Valley)

3 in B8 2016 Martinelli Syrah Lolita Ranch (USA, California, Sonoma County, Russian River Valley) 

4 in B3 2012 Riverain Syrah Cardiac Hill Bennett Valley (USA, California, Sonoma County, Bennett Valley)
Zinfandel
1 in B4 2017 Martinelli Zinfandel Jackass Vineyard (USA, California, Sonoma County, Russian River Valley) 

3 in B8 2017 Martinelli Zinfandel Lolita Ranch (USA, California, Sonoma County, Russian River Valley) 

3 in B8 2017 Martinelli Zinfandel Vellutini Ranch (USA, California, Sonoma County, Russian River Valley)
Zinfandel
6 in A15 1959 Antonio Ferrari Solaria Jonica Puglia IGT (Italy, Puglia, Puglia IGT) - 500ml
Limited Inventory - Pricing subject to change
Beer
Draft Beer
Innermost Limits | W.C. IPA, Laguna Beach Beer Co. 

Tuava Guava | Hefeweizen, Laguna Beach Beer Co. 

Marine Layer | Hazy IPA, Laguna Beach Beer Co.
Bottle Beer Selection
Chimay | Blue Grande Réserve 

Elysian | Space Dust IPA 

Stella Artois | Belgian Lager 

Pacifico | Cerveza Clara 

Coors Light

Bitburger Pils | Alkohol Frei
The Drake
2894 South Coast Hwy
Laguna Beach, CA 92651

Please use our valet parking located at
2880 South Coast Highway (adjacent to The Drake) $7
Self Parking is available, please note there is no parking in the residential neighborhood behind our restaurant.
Hours
Sunday - Wednesday:
4:30 pm - 10:00 pm
Thursday - Saturday:
4:30 pm - 11:00 pm
Open for Indoor & Outdoor Dining Daily. 
Two Seatings 5:45PM & 8:15PM
Live Music 7 Nights a week. 
$10 Musical charge for Thursday, Friday & Saturday evenings 2nd seating only
Take-out & Local Delivery available daily 5:00-9:00pm